Contact Us
TO ARRANGE A VISIT PLEASE CONTACT US BY PHONE OR E. MAIL. IF YOU ARE A LONG DISTANCE CALL AND YOU GET THE ANSWERING MACHINE PLEASE SEND AN E.MAIL TOO. DUE TO MY DOG TRAINING SCHEDULE IT MAY TAKE A FEW DAYS TO GET BACK TO YOU.
PICTURED BELOW IS THE VIEW FROM MY KITCHEN WINDOW.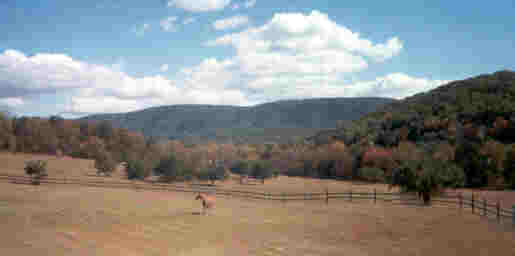 SHARON TAYLOR *** LITTLE ORLEANS, MARYLAND
PHONE 301-478-3046

Email:
ridewest@hughes.net
Website:
www.ricoshar.20m.com
IF YOU CONTACT US BY PHONE THERE'S A GOOD CHANCE
THE "MACHINE" WILL ANSWER. THAT DOESN'T MEAN WE
AREN'T HERE OR NEAR BY. WITH THE DOGS AND HORSES WE
ARE OUT IN THESE HILLS A GOOD BIT OF THE TIME. I'M
NOT FOND OF THOSE MACHINES EITHER...IN THIS DAY AND
AGE THEY ARE A NECESSARY EVIL. NOW IF I COULD JUST
TEACH ONE OF OUR CRITTERS TO ANSWER THE PHONE...I
HAVE A LILAC CROWNED AMAZON PARROT WHO WOULD JUST
LOVE THAT JOB.IF CHINKA ANSWERS YOU KNOW I HAVE
SUCCEEDED.